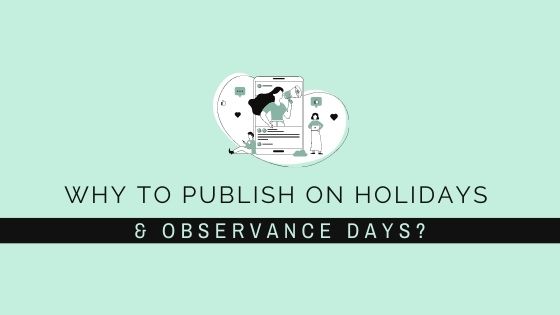 There are over 900 holidays and observances worldwide such as May Day, Guru Purnima Day, Independence Day, and Republic Day.
There are also many International silly, interesting, and heart-felt days such as International Dog Biscuit Appreciation Day, World Water Day, International Mother Earth Day, World Television Day, and International Goof Off Day.
You may be asking what all this has to do with social media posts.
Well, posting on holidays and observances is a great way to gain an emotional response and generate a lot of shares and engagement.
Although time-specific, you will be able to stay connected and engaging on these days.
Themed Posts and Events
Holidays and observances are a perfect time to have themed posts and events. You can invite followers to watch a video, participate in a holiday-related survey, or to watch a live show with you. The options to engage with your audience are endless.
For example, on Valentine's Day, you can host a life about what a perfect date is for your followers and respond to each comment verbally. This type of interaction builds a lasting connection.
Holiday Specials
For businesses, holidays and observances are a great time to have specials as well. You can run a sale or special offer on the theme of the holiday. For example, if you own a bakery, during International Picnic Day you can run a sales post to buy one get one free sliced bread.
Just be sure to not post anything over the top for the little more somber holidays and observances such as Independence Day. This is because some still hold this day as a day of sorrow to remember the events of the partition.
Pro Tip – Pull Out the #Hashtags!
These holidays and observances are perfect for hashtags. For example, on International Moment of Laughter Day, you could use the hashtags: #knockknockjokefan, #ilovetolaugh, or #madeyoulaugh. There are several thousand followers for these tags, so utilizing them would get more attention to your posts by fans of these hashtags.
We have all been on Instagram and viewed posts with a ton of tags and this is the reason. It helps to funnel more readers, fans, followers to your posts, as they are looking for posts with these hashtags. So, when you use them too, you will get additional traffic you would not have otherwise.
With a little planning and organizing, you too can utilize the holidays and observances to connect with your audience and even potentially gain more followers. Social media is already a wonderful platform for reaching out so, when you add in an emotional connection with meaningful engagement, you can't go wrong.
Of course, not every observance is a happy one, but even on those days you don't want to miss an opportunity to engage with your followers in some way. It may be a simple post, a meaningful image, or a heartfelt video. Either way, it will generate an emotional response and likely get shares.