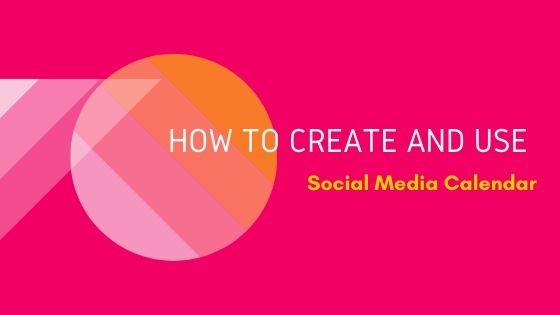 Maintaining and coping up with social media consistency can be pretty hectic and confusing too, sometimes. Most of the people don't even have the closest idea to manage their posting and updating schedules, as a result of which they have to face the crunch of delayed posts, obsolete data, outdated content, and loss of readers' interest.
Now when we talk about building out a social media calendar from scratch, that can take you hours! To save some valuable hours and get yourself a colossal head start, you should definitely check out and grab our Social Media Content Calendar. Our customers have responded to our line of Social Media Calendars for outstanding results and benefits on using it.
You'll get a complete year of post ideas perfectly planned out for you, which comes as an editable Google Sheet or Excel Spreadsheet to customize it easily according to your schedules and plans, to execute your own way.
What is a Social Media Calendar?
A social media calendar is sort of a schedule or even a record of your minutes relating to the content you post. A Content Calendar organizes your publishing schedule by date and even by time if you require so that you can keep track of deadlines, be able to manage your content creation team much efficiently, and generate transparency with all parties concerned.
Every content calendar is diverse and should be accustomed to your unique requirements. However, generally, most people find a general schedule tab, monthly planning calendar, a repository for website content, and updates for each of the top social media platforms, much convenient than any other option.
Although social media content calendar templates are one of the most useful things you can opt for marketing your business nowadays. It helps you keep your focus, makes you organized, and keeps you consistent in working towards your goals. It also prevents loss of time and stress thinking about what to post every day.
How to Create a Social Media Calendar?
Set Weekly or Monthly Social Media Plans:
The very first and most important step is to set goals or prepare a plan for every single content you share on social media so you can track your progress as well as your setbacks, what type of content drives your baseline, and what to modify based on campaign performance.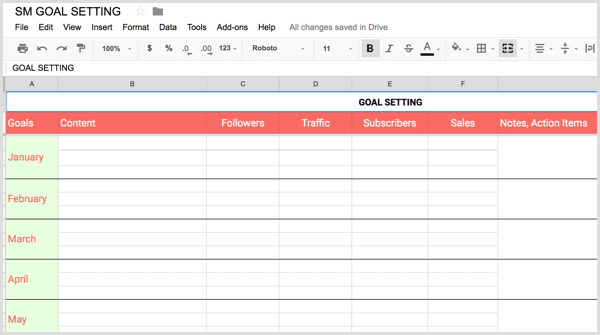 For most of the social media marketers, goals are defined as generating more clients and sales for their business. If you work
regressive from your farsighted goals, you can create short-term goals that will help you accomplish them.
Choose the Right Social Media Content Mix
The very purpose of a social media content calendar is to ensure a rigid framework for creating content that resonates with your audience and also helps you expand your business at the same time. Hence, before you create your calendar, you should plan your content around specific campaigns and goals.
Once you are done choosing the categories of your content, now create a separate spreadsheet to use it as a working library, this will help you plan and gather the authentic product-related content, events, and promotions you plan to take forward.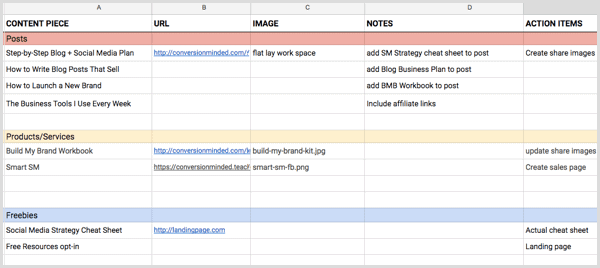 Create your Content Calendar
After you've successfully channeled the spreadsheets now you can either design your calendar yourself or download some social media calendar templates online, to start using it the right away. You may navigate using the tabs at the bottom of the sheet.
To create your calendar manually, you may log in to Google Drive and click "New" to create a new spreadsheet. Then click the title to "Rename" it. Then put dates in column and add your social media profiles, pages, or schedules to each date and make sure to maintain gaps between each profile to accommodate your posting frequency.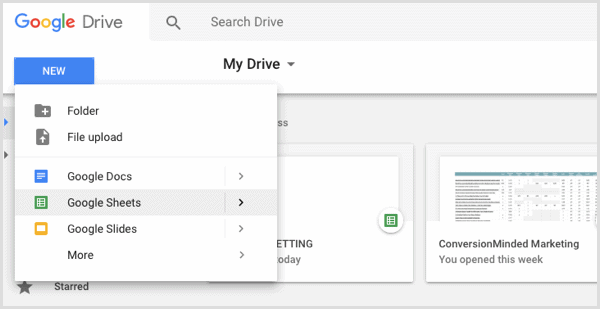 Start Adding Content to Your Calendar
After you've created the framework of your calendar, select the specific days to share each part of the content and you're good to go. Add the content from your working library by using the same color-coding scheme to differentiate all the dates and topics.
Customize the calendar according to your posting frequency. For example, you may include specific times when you plan to share each of your posts, or you can add an email and other distribution channels. You might add additional rows for each day to highlight important events and record promotional dates.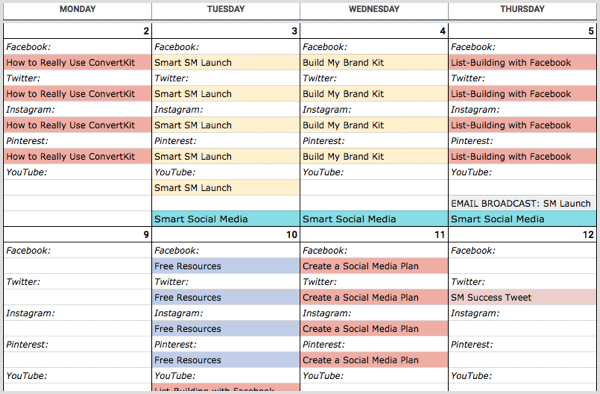 Plan, Schedule, and Publish Your Social Media Posts
Plan what you want to post and when and put it in the calendar dates accordingly. After you've planned and scheduled out your social media content on your calendar, it's time when you start your research and gather content, create blog posts, and design images. If you are struggling to find the time to accomplish your social media calendar template and create the content you require, there are tools available on various sites and even on Playstore that will help.
How to Use a Social Media Content Calendar?
Now that you have successfully created a social media content calendar, it's time to learn how to use it and start scheduling your posts. A social media calendar is most advantageous when you utilize it to schedule your posting plans either on a weekly or on a monthly basis.
Mostly it is preferable to schedule posts on a weekly basis as it allows you to be more flexible in switching posts depending upon what's been going in that particular week. However, people nowadays prefer to schedule posts on a monthly basis as it is convenient to wedge a portion of time once in a month, settle into the zone, and manage a month's worth of posts and updates, all at once.
No matter what rhythm you opt for, you will have to sign up for a social media scheduling tool for instance HootSuite and Buffer. If you have a sufficient budget for investing in a more robust tool, we would recommend investing in either HootSuite or Buffer. These two are our personal favorite recommendations for you to plan and schedule your social media posts for Instagram, Twitter, Facebook, and LinkedIn.
We've done all the research and invested hours of efforts in generating this content calendar for you. The post propositions are strategically planned to ensure diversity and brilliance to your social media posts. Our customers have raved about our line of the calendars and reportings:
Faster progress of followers after using the calendar.
Rapid upsurge in engagement on social media posts.
Saves a lot of time and reduces stress of social media marketing.
Click here to download social media calendar today!
Content Calendar
365 Days Social Media Calendar 2020 – India
Attn: Indian Entrepreneurs and Social Media Marketers Prevent Loss of Time and Stress Thinking About What to Post Every Day
Content Calendar